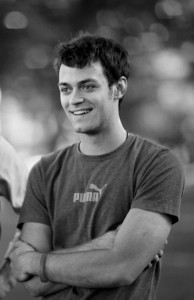 Sowa Entertainment's latest addition to the talent roster, Evin Baird is a versatile performer who lives to interact with people and crowds in all kinds of settings.  As a DJ and MC, Evin's friendly personality and his knowledge of music combine to create a great atmosphere, keep a positive momentum, and make for a positive event. As a musician, he is available to perform acoustic guitar and vocal background music for cocktail receptions, dinners, and wedding ceremonies. As a "Bubble Party" entertainer, he hosts high-energy, interactive dancing and games for children and family events.
Evin began his DJ career working with Greg Sowa while still attending college at UNH, but he had been a professional musician for many years prior. When he's not helping clients create fun and memorable events, Evin tutors international students and can also be seen rocking out as a lead vocalist and guitarist at venues across New England. Evin's many years of experience playing music and performing for crowds of all shapes and sizes means he knows just how to get the dance floor moving. His lively personality and attention to detail make him an excellent MC and DJ for your wedding celebration, your company event, or as an exciting and personable host for your other special occasions!
Contact us for more information or to book Evin Baird.